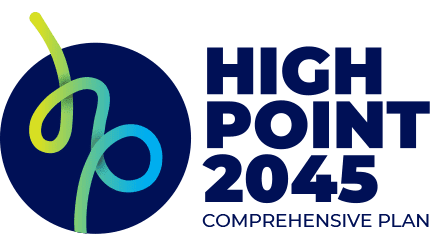 Don't miss your chance to share your ideas about plans for the next 20+ years in High Point by taking the brief online survey.
The survey will be available September 22nd – October 8th.
For all those that live, work, or play in High Point, add your voice to the conversation in 10 minutes or less! For more information visit the project website at highpoint2045.org
Legal
Civil Rights Law
Ferguson Chambers Sumpter
309 E Morehead Street Unit 110
Charlotte, NC 28202
704-375-8461
fergusonsumter.com
Employment, Labor & Sexual Harassment Law
Kennedy, Kennedy, Kennedy & Kennedy
301 N Main Street Suite 2000
Winston Salem, NC 27101-3884
336-724-9207
Link
Personal Injury Law
R. Steve Bowden & Associates
806 Summit Avenue
Greensboro, NC 27405
336-285-0925
rstevebowden.com
Veterans Affairs Law
Deuterman Law Group
3524 Lawndale Drive
Greensboro, NC 27408
336-281-6995
deutermanlaw.com
Housing Resources
LandLord and Tenant Concerns
City of High Point Human Relations Commission:
highpointnc.gov
Employment Resources
Workforce Training and Education Resources
Employment Discrimination & Wages
U.S. Equal Employment Opportunity Commission (EEOC)
There are strict deadlines for filing a charge of discrimination.
Greensboro Local Office
1500 Pinecroft Road, Suite 212
Greensboro, NC 27407
1-800-669-4000
You are encouraged to visit the EEOC Public Portal (https://publicportal.eeoc.gov/) to schedule an intake appointment by telephone or an in-office interview which will be conducted by video using EEOC office equipment. The system can also be accessed by going directly to our website at https://www.eeoc.gov/.
Health and Food
Health
Guilford County Health Department in High Point
Address: 501 E Green Dr, High Point, NC 27260
Phone: (336) 641-3245
Food Insecurity
A Gift of Giving Food Distribution
1309 Leonard Street, High Point
High Point Sda Food Pantry
1311 Johnson Street, High Point
Community Services